Your Trusted HVAC & Furnace Repairman in Orange County, Los Angeles, Riverside & San Bernardino Counties.
When you need a low-cost alternative to HVAC services and products, So Cal Plumbing Heating & Air Conditioning presents the absolute answer. We offer a comprehensive range of high-quality solutions at an affordable rate, so you don't have to shell out too much of your hard-earned money for the same brand of excellence and expertise our technicians can provide.
Serving most cities in southern California, our team is your local resource for reputable assistance on your heater and furnace repairs, installations or upgrades at any time of the day with no overtime charge for emergency calls.
Emergency HVAC Service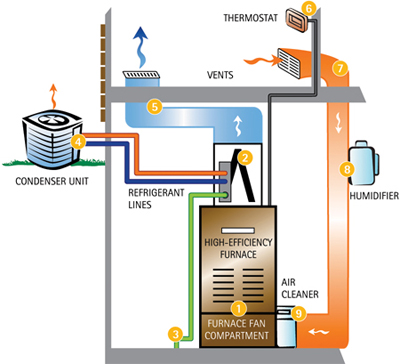 So Cal Plumbing Heating & Air is available 24/7 for all of your heating and furnace repair emergencies. With over 15 years of service, we will have your system operating smoothly in no time, so you can rest assured that your home is in good hands.
For quotation inquiries, give us a call at 310-686-0777 today.
We Service Every Type Of Heating System
Reverse Cycle Air Conditioning Repair, Installation & Maintenance
Reverse cycle air conditioning can either be a central ducted system or a split system. It has the advantage of being both a heating and a cooling solution. Air conditioners are usually thought of as a summer appliance used for cooling. However, a reverse cycle model can also be an efficient and effective way to heat your home in winter. If you have an existing heating and cooling system, annual maintenance is highly recommended to keep it running in top condition. We can handle any issues with your system's heat pump, whether it needs repair or replacement.
Natural Gas Furnace Repair, Installation & Maintenance:
This heating system is often called "ducted central heating". You would choose this type of system over reverse cycle if you already have natural gas piped to your home (or if it is available to be connected) if your home is suitable for ducting and you have a preference for gas heating over electric heating.
Electric Furnace Repair, Installation & Maintenance:
An electric furnace functions similarly to a giant hairdryer. It has a blower that draws air into the cabinet through a cold-air return and then pushes the air through a heat exchanger. Electric heating elements heat this air, and the blower pushes it back into the rooms through the duct system. Most issues are caused by a power failure, faulty heating elements, or blower breakdowns. Electric furnaces have a high-voltage hazard inside the cabinet, so it is imperative to leave repairs to a qualified HVAC service technician. We highly recommend regular maintenance to replace or clean the air filter and cleaning the humidifier component if any.
Steam/Hot-Water Furnace Repair, Installation & Maintenance:
Hydronic boilers are growing in popularity quickly because of their efficiency, clean operation, and because they allow for floor and baseboard heating. The installation process for a new hydronic boiler system can be intensive, so it is important that you hire an expert who understands the technology. If you have an existing hydronic boiler system, it's highly recommended that you have it properly serviced on a regular basis. Proper maintenance includes having an expert inspect the entire system, clean the gas burner on the boiler, check the connections, test the thermostat and thoroughly inspect the flue and pilot light.
Ventilation Experts:
Ventilation is a much-underestimated element of modern residential and commercial buildings — but will play a crucial role in how much you enjoy your new home. SoCal Plumbing Heating & Air Conditioning is a recognized company in terms of repairs, replacement, and services for all brands of HVAC units. Adequate ventilation is essential in every property or establishment to maintain a healthy environment, prevent the build-up of excess levels of humidity and to provide air for fuel-burning appliances. A good ventilation system is what we provide to help remove all those cooking smells, allergens and other irritants, such as tobacco smoke and make your home a considerably more pleasant, healthy and comfortable place to live.
Commercial Heating Systems:
These systems typically require heavier duty systems. They often have multiple zones that require individual temperature control.
Read more on our Commercial HVAC services
Tips From HVAC Experts to Maximize Your Home Heating System
Ensure your home is well insulated: Ceiling insulation, wall insulation, fitted carpets, and curtains or blinds will all help keep the heat in and reduce your energy consumption.
Draught-proof your home: Check for draughts using a lighted candle, in particular around windows and doors. Fix draughts using draft stoppers on doors (especially external doors), insulation strips on windows and close off open fire-places and unused pet doors.
Ensure your home is adequately ventilated: This is especially important if your home is well insulated. Ventilation allows the air to be changed regularly and to get rid of pollutants and prevent condensation (which will encourage mildew growth).
Keep external doors and windows closed: Open some windows several times a day, for ventilation, for a few minutes rather than leave a window partially open all the time. You'll lose less heat this way
Turn your heating off at night: Turn it back on when you wake in the morning or use an automatic timer to turn your heating on and off.
Keep the temperature setting low if you are active in the house: The normal operating temperature in most average homes should be between 17C and 21C.
---
Your Satisfaction Guaranteed
How many times have you called on an "expert" only to be quoted too high for a heater you don't need or a repair that doesn't last? With So Cal Plumbing Heating & Air Conditioning, you don't have to be troubled about these unfortunate matters. Our skilled and friendly technicians will efficiently diagnose your heater or furnace problems and offer you the ideal solutions that would suit your home's requirements, and most importantly your budget. You'll know exactly what you'll get before any work is performed and without unauthorized billings or surprise charges.
Contact us today and speak with one of our highly trained HVAC service technicians for all your home's heating needs.