Fast & Reliable Commercial Plumbers in Orange County, Los Angeles, Riverside & San Bernardino Counties.
So Cal Plumbing Heating & Air Conditioning provides unbeatable commercial plumbing services business owners and operators can depend on. With decades of experience, we bring the skills, expertise, technology, and customer service that your business or facility requires.
Emergency Commercial Plumbing is Available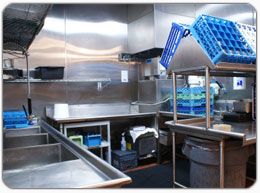 We know plumbing problems can seriously disrupt the flow of your business, and every moment spent waiting for plumbing service means more dollars down the drain. So Cal Plumbing Heating & Air Conditioning is available 24/7 for all of your plumbing emergencies. We're equipped to have your business running back to normal in no time, day or night, with no overtime charge.
Green Plumbing
Reducing your carbon footprint with energy saving plumbing is good for the environment and your wallet. So Cal Plumbing Heating & Air Conditioning specializes in making commercial plumbing more sustainable and less costly with energy efficient solutions that highly benefit your business and the planet.
Sewer & Drain Experts
Trusted by many business owners and operators throughout the Southern California, So Cal Plumbing Heating & Air Conditioning can properly diagnose and treat any of your sewer or drain problems. The skill, expertise, and technology we employ will save you money in unnecessary digging and repairs. Our trenchless pipe relining technology can save your lines without digging, and we can prevent costly repairs with a state-of-the-art fiber optic inspection.
Commercial Water Heating
Does your water turn hot immediately or does it take a while for water to flow before it heats the way you need it to? Restaurants, hotels, and many other businesses benefit from a continuous flow hot water system. Providing hot water on demand and lowering your business' monthly water heating costs makes upgrading to a continuous flow system a great return on the investment.
Commercial Plumbing Fixture Repairs & Upgrades
For any upgrades or repairs to toilets, urinals, sinks, or other commercial plumbing fixtures, So Cal Plumbing Heating & Air Conditioning has you covered.
Pipe Maintenance & Installation
So Cal Plumbing Heating & Air Conditioning can assist you with all of your pipe maintenance, repairs, and new installation. Leak detection, replacing copper or other lines, we can handle it with the least hassle and inconvenience for your business.
Backflow Preventers
Allow So Cal Plumbing Heating & Air Conditioning to maintain your backflow prevention compliance with local water authorities. We also provide expert new installation and repair of all backflow prevention devices.
Water Conditioning
Water conditioning provides cleaner water and prevents premature wear and tear on your equipment.
Preventative Maintenance Service
A preventative maintenance service tailored to your business needs. This service provides periodic inspections and maintenance to all plumbing systems and prevents costly repairs or replacements.
Contact So Cal Plumbing Heating & Air Conditioning today and speak with one of our highly trained professionals for all your commercial plumbing needs in Southern California